Know how I am pushing away the winter blues?? I am hosting a give away!!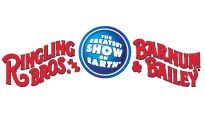 The Circus is coming to town!!! I am happy to partner with MomCentral and host a give away for tickets to the upcoming Ringling Bros. & Barnum and Bailey "Zing Zang Zoom" Circus. The tickets are for the opening night show in Cincinnati, Ohio March 10. Not only will one of my lucky readers win a family 4 pack of tickets, the "All Access Pre-Show" is FREE for all ticket holders and begins an hour before showtime. If you aren't the winner of the give away, here is a coupon code for you! Go to

www.ticketmaster.com

and enter the coupon code:

MOM

.

The

code is valid for four tickets for $44 for Monday-Friday matinee shows (any additional tickets are still priced at $11), and $4 off Friday night and all weekend shows.
Cincinnati Show Dates: (US Bank Arena)
Wednesday March 10: 7:00pm
Thursday March 11: 7:00pm
Friday March 12: 7:00 pm
Saturday March 13: 11:00am, 3:00pm,
7:00pm
Sunday March 14: 11:00am, 3:00pm,
7:00pm
To enter simply leave a comment on this post! The drawing will be held Feb 25, 2010 at 10pm.
*You may enter once a day if you'd like!
*Please include your e-mail address so I can notify you of your win. OR check back here on 2/26 to see if you are the lucky winner.